Q101.com has long reviled Larry Merchant.  At times he has seemed drunk during his post-fight rambling soliloquies.  Between him and the wretch-inducing HBO PBP man Jim Lampley, it's been tough to sit through boxing on HBO for decades.  That's just our opinion.  However…
The recent tussle between Merchant and the equally-addled Floyd Mayweather Jr. had us rooting for Larry.  It may have been the only time we dug him.  Now he's facing slings and arrows from all sides, and in this fight, we're actually rooting for the old coot.  Read on:
HBO commentator Larry Merchant is a well-respected figure in the world of boxing.
The sports journalist has called hundreds, if not thousands of bouts in his 30-plus years with the organization, though no moment has been more significant than that of his in-ring encounter with pound-for-pound great, Floyd Mayweather.
After Mayweather knocked out former WBC welterweight champion Victor Ortiz on Sept. 17, the colorful fighter drew the ire of Merchant.
After a deliberate clash of heads from Ortiz in the fourth round, the fighters were separated by referee Joe Cortez, who dropped the ball when he didn't send both fighters to their respective corners. He called for a time-in while Ortiz appeared to distract, and shortly thereafter Mayweather connected on a powerful left-right combination that ended the bout.
Merchant infamously entered the ring questioning Mayweather's tactics, to which the boxing great did not take kindly, vehemently calling for the HBO representative to be fired. Merchant responded by saying, "If I was 50 years younger, I'd kick your ass."
Though he runs the largest mixed martial arts organization, UFC president Dana White has long been a boxing fanatic, even operating his own boxing aerobics classes before mogul-ing it up with the Las Vegas-based promotion.
Following the Mayweather-Merchant blowout, White didn't hold back any punches about how he felt the veteran boxing commentator handled the situation.
"…Merchant gets in there—this babbling, senile, insane idiot. This guy has been around for way too long, he gets on there again and just embarrasses HBO," the UFC exec began.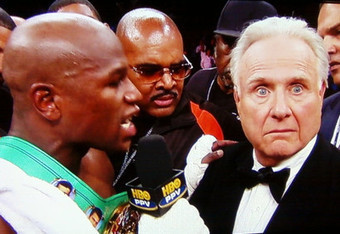 Mayweather vs. Merchant
"Dude, you're 107 years old. You have no business being on television anymore."
Needless to say, White's comments toward the 80-year-old (not 107) Merchant did not go unnoticed by the HBO representative, who complimented White on his endeavors by becoming a financially successful man thanks to his exploitation of this "Fight Club-esque" sport.
"Anyone who can make a multimillion dollar business out of street fighting has to be respected," Merchant said when he spoke with BoxingScene.com.
"My opinion is that anyone is allowed to put up a tent, put on a show and invite people to come. And obviously he's had a lot of success. Good for him.
"I don't watch it. I don't get a so-called sport in which you can have a 6-2 record and be called a world champion. I just don't appreciate the finer points of MMA."
Source:  http://bleacherreport.com/articles/868545-hbos-larry-merchant-responds-to-ufc-president-dana-white
Stay tuned for White's response. He won't let this transgression go on without retort.